Advantages of Magnetic Boiler Filter
The heat blocked by corrosive dirt escalates the temperature of the chamber and abnormal temperature overheats the metal components, which is likely to result in damage to the system or even cause an explosion.
Sludge also affect pipeline systems, causing blockages and reducing water flow. In extreme cases, serious blocking may trigger pipes to burst. Chronically accumulated dirt exerts a negative influence on the operation life of the boiler, meanwhile, central heating magnetic filter cleaning of removing the dirt is a difficult task and requires extra maintenance costs and time.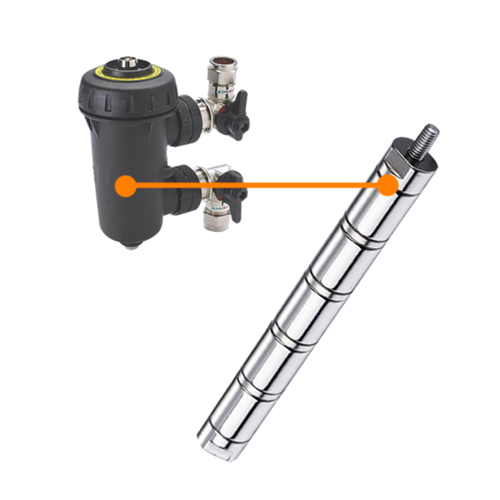 Magnetic boiler filters are the ideal solution to costly and unnecessary system breakdowns caused by both magnetic and non-ferrous particulates in central heating systems. Magnetic filters for central heating systems are the most common type of filters. Magnetic central heating filters are installed on the pipework of the boiler, and they are used to remove debris from central heating systems thereby resulting in a longer boiler lifespan and increased system efficiency.
The heating magnetic filter equips the strongest rare earth neodymium magnets which provide a 12000Gs magnetic field with a maximum of 120°C temperature resistance.
As the best magnetic filter for central heating filter bars manufacturer, we produce 20-50 thousand magnetic bars every year, which are used in the central heating magnetic filtration system. The diameter is different like 10mm, 15mm, 22mm, 25mm, 29mm, 35mm or customized magnetic system filter as per your request. Length: 90mm-2000mm, or customized as per your request.
Our highly competitive price doesn't mean that we skimp on service. People have asked us how we can offer such high-quality products, like boiler magnetic filter and heating system magnetic filter at such great prices and the answer is simple: we design and build our own products and so, we can pass those savings on to you. There is no middleman. OEM is welcomed, samples of magnetic filter for central heating system are available, and small orders are accepted. 100% quality & best service is guaranteed.
The Features of Magnetic Bars For Central Heating
Filters
1. The diameter and length of the magnetic boiler filter.
2. The number of magnets for each filter.
3. Max. Surface Gauss value of the magnetic boiler filter.
4. Connections of the magnetic boiler filter.
5. Maximum Operation Temperature Magnetic Bars For Central Heating Filters:
series is available for the customer to choose from:
N series up to 80 degrees °C
M series up to 100 degrees °C
H series up to 120 degrees °C
SH series up to 150 degrees °C
UH series up to 180 degrees °C
EH series up to 200 degrees °C